2013 Spring Harvest Tea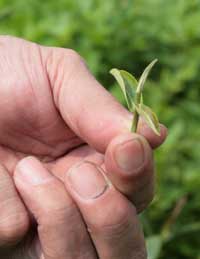 The response to the arrival of our 2013 Chinese spring green teas has been phenomenal! We are thrilled that so many of you have been watching for the moment when these wonderful fresh teas arrived here at Tea Trekker.
We have another arrival to be excited about. On Friday morning the last two of our spring 2013 Longjings were delivered to us. This completes the selection of early-harvest Longjings that we will have on offer this year.
What did we receive? The 2013 Longjing Dafo Village Pre-Qing Ming and the 2013 Meijiawu Village Pre-Qing Ming. Those of you who have been keeping an eye on the 2013 selections so far will wonder why we have had the Meijiawu Village Yu Qian in stock before the PQM, even though it is the later of the first two spring harvests. This is due to the fact that the Pre-Qing Ming shipment was delayed at customs and the Yu Qian was not. Now that we have both deliveries in-stock you can taste both Meijiawu Village PQM and YQ side-by-side and observe the difference that a few days makes in the taste of the tea.
This year we worked hard to obtain as many 2013 Longjing offerings as we could from the authentic harvesting areas. The result? We have Longjing from 3 of the 4 harvesting areas in Xi Hu (West Lake) and also the Longjing Dafo Village, which comes from just outside the Xi Hu region where it has been made for centuries (and rivals the best of the Xi Hu harvests).
We are proud to offer these magnificent teas, and believe that we are the first ever tea company in the US to offer such a comparative selection of stellar quality Longjings so soon after the early spring harvest. This is possible only because of the dedication to excellence of our tea enthusiast customers – so to that we say:
HOORAY FOR ALL OF OUR TEA TREKKER CUSTOMERS !
– follow this link to view our current selection of 2013 teas –
PS: We have many 2013 spring green teas that will still arrive this year, but they will arrive throughout the next few months (on schedule) due to their staggered harvest times.